Mercedes-Benz SL W107 1971-1989

The Mercedes-Benz W107 SL had its debut in 1971 as the 350SL with the eight-cylinder engine and set a new design standard for the next models, which in this case lasted a whopping 18 years.
The designer, Friedrich Geiger (who also designed the "century sports car" 300SL "Gullwing", the Roadster W198 II, the 190SL and the "Pagoda"!), is strangely unknown by his name. Perhaps he deserves the title "Michelangelo of automotive design" the most, without belittling the services of Bertone, Michelotti, Frua, Pininfarina, Count Goertz ....!

The hood has completely taken over the design features of the previous model, the W113. New on the top were the three windows instead of one, which still allowed a "panoramic view" because of the narrow bars (for stabilization).

Those were times when the designers were careful that as a driver, you could still see everything from the car - without beep-beep and rear-view cameras ... etc.!
---
Product Portfolio
You want to buy some German engineered awesomeness, but you're not from the United States or Canada? Feel free to contact us, too.
---
Issues & Improvements
---
In-house developed soft top with ONE centered rear window for the Mercedes-Benz SL W107 / ONLY by CK-Cabrio!
For customers who place less value on originality and give the functionality a higher status, we also offer a convertible top with ONE (slightly widened) centered PVC window!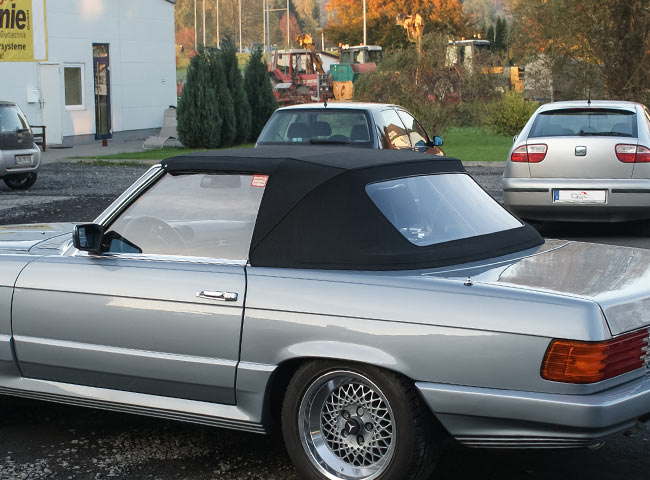 ---
What does not exist, cannot break!
Well known the side windows are the biggest weakness in terms of the life span of a W107 Convertible Top. So we did not implement them in the design.
It then follows the simple logic: What doesn't exist, cannot break!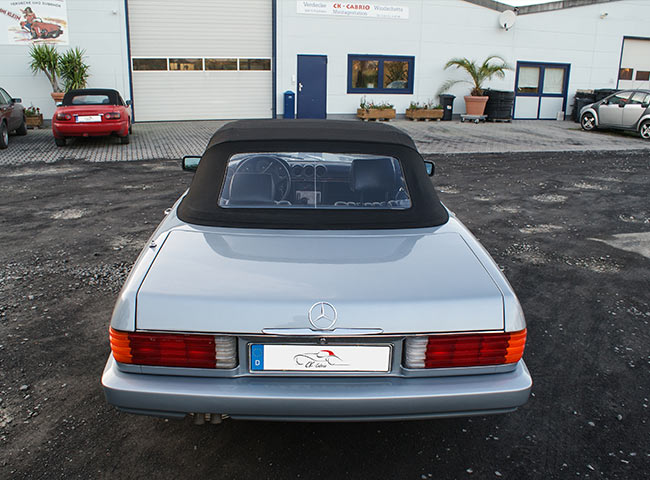 ---
More functional and aesthetic! / CK-Cabrio Line soft top for the SL W107
From an aesthetic point of view, there is nothing wrong with it. On the contrary. The closed 107 is thus similar in appearance to the 113 Pagoda. We had to adjust the cut accordingly.
---
Experiences and Impressions of the Mercedes-Benz SL W107 convertible top installation
Hi. How can we help?

---
1

Ask us

---
2

We support you
Browse common questions
Something is missing? What's on your heart? Feel free to ask us anything you want. Yeah, anything! We want you to participate in our Solution Center. Why? Your questions may also help other curious and like-minded people. It's that simple.
Ask us anything you want to know about the Mercedes-Benz SL W107
If you even want to help the community, just get involved by clicking "YES" for publishing your question here on our Solution Center for the W107. Your question will be published together with our answer.
We and the community will appreciate this!