Mercedes-Benz 300SL W198 II Roadster 1957-1963

To this - also built as a Roadster approximately 1.850 times - icon of the automobile construction it needs no further comment.

The designer, Friedrich Geiger (who also designed the 190SL, the "Pagoda" and the SL107!), is in fact strangely unknown by his name.
Perhaps he's the one to deserve the title "Michelangelo of automotive design" the most, without belittling the services of Bertone, Michelotti, Frua, Pininfarina, Count Goertz ....!

At that time, as well as today, it was and still is true: a lucky one, who can afford a 300SL.
---
Product Portfolio
You want to buy some German engineered awesomeness, but you're not from the United States or Canada? Feel free to contact us, too.
---
Issues & Improvements
---
We produce a detailed reproduction of the original convertible top for the Mercedes-Benz 300SL / Many references!
A few clear words at this point:
Totally "original" exists only and exclusively at Daimler.
Where these soft tops with the Mercedes star - impressed in the PVC rear window - are produced today, we do not know. In the middle of the nineties, I installed such an "original top" for a customer who insisted on 100% originality and therefore did not want to bother with costs and efforts. I would like to have it handcrafted for him -Made in Germany-! On the box - original Daimler Benz - was written: "Made in Argentina".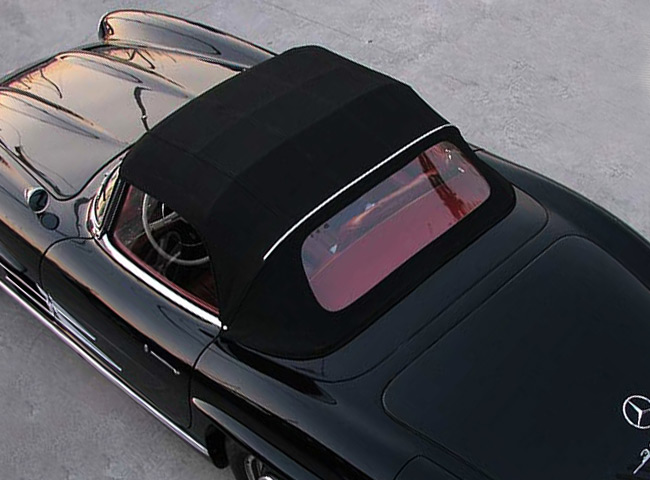 ---
So much for the originality of the original spare parts sold by the manufacturers. We are no longer in the year 1959. The facilities, the machines, the materials, the people, etc., who built these cars are no longer there, at least not in the context of these vehicles. There is no longer an original, only as faithfully reproduced parts as possible, with materials for which the same applies.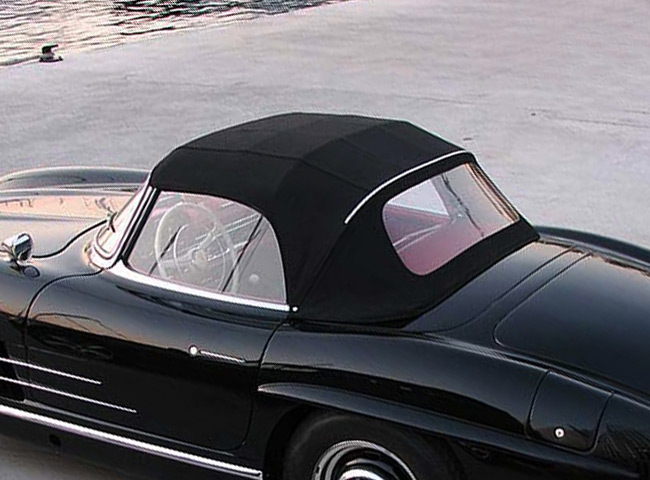 ---
Attention!
The form-steel part which must be worked into the convertible top by insertion into the retaining profile below the rear window creates due to its original shape a bulge of the hood on the right and left. This is NO wrinkling of the soft top, it also requires no modification, since it is designed so provided.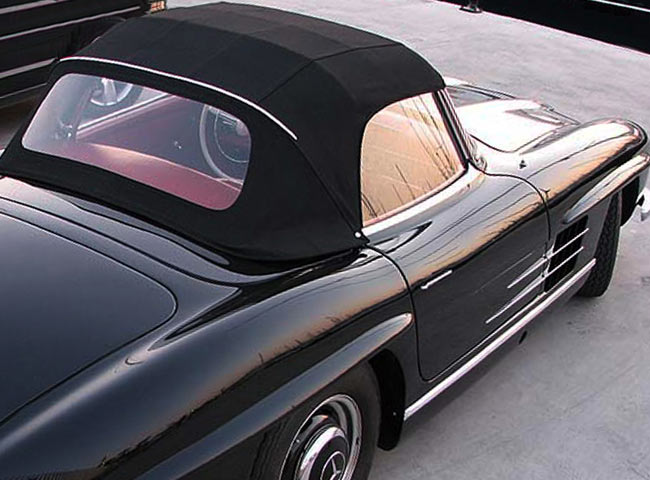 ---
Experiences and Impressions of the Mercedes-Benz 300SL convertible top installation
Hi. How can we help?

---
1

Ask us

---
2

We support you
Browse common questions
Something is missing? What's on your heart? Feel free to ask us anything you want. Yeah, anything! We want you to participate in our Solution Center. Why? Your questions may also help other curious and like-minded people. It's that simple.
Ask us anything you want to know about the Mercedes-Benz 300SL
If you even want to help the community, just get involved by clicking "YES" for publishing your question here on our Solution Center for the 300SL. Your question will be published together with our answer.
We and the community will appreciate this!